Dental Braces in Corona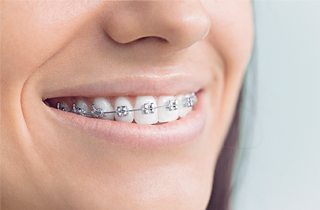 Dental braces are a popular treatment for bad bites and cosmetic problems such as gaps, crowded teeth and crooked teeth. They are virtually side-effect-free and are almost sure to work as long as they are applied on the right dental problem.
At what ages should I wear braces?
Braces are a tested-and-tried treatment for people of all ages. However, tweens make for the best candidates as their head and mouth parts are still developing, making their teeth more flexible to straightening.
Basically, age matters when it comes to braces. The earlier you apply them, the faster it will take you to achieve results.
Read Kayvan M.'s review of Super Smile Orthodontics on Yelp
What is the best type of braces for me?
Here are some of the most common types of braces that your dentist or orthodontist may recommend:
Traditional braces – Traditional braces have brackets made of stainless steel. They are held together using a tiny wire and to your teeth using special adhesive cement.
Ceramic braces – These sport brackets consisting of clear ceramic – a material more discreet to an onlooker than stainless steel.
Self-ligating braces – Self-ligating braces have a sliding mechanism that allows the brackets to move with your teeth as they align.
Invisalign – Invisalign aligners achieve the same results as traditional braces but in a unique way. They are removable, custom-built and of clear plastic, which makes them perfect for cosmetic concerns as well.
Read Katrina L.'s review of Super Smile Orthodontics on Yelp
How long do I have to wear braces?
The treatment period for braces is usually no less than 12 months and no more than 24. It will however largely depend on the particular problem you're trying to correct, your age and the type of braces recommended for you.
Super Smile Orthodontics provides braces and a range of other corrective treatments for crowded teeth, bad bites and related dental problems. Call 951-394-7499 now to schedule an appointment with one of the best orthodontists in Corona.